Registered Massage Therapist
Natalie graduated from Grant MacEwan in 2014. Natalie has had clear results in treating conditions such as fibromyalgia, whiplash, and insomnia. To complete a triathlon was a childhood dream so she decided to pursue that dream before finishing university. Natalie has three energetic toddlers and thrives on taking them for walks. If she could choose anywhere in the world to travel it would be Tonga. Natalie enjoys providing Pregnancy Massage, Swedish Relaxation, Deep Tissue, and Sports Massage for her clients.
Registered Massage Therapist
Jena's interest in massage therapy stems from how stress impacts the body and how massage therapy can create quality of life healing from the inside out. Majority of her time is spent with her husband and animals, hiking, travelling the world making everyday exciting and adventurous. Jena is great with Deep Tissue and Relaxation Massage, Stretching, Stress Relief, Pregnancy Massage, Myofascial Release, Trigger Point Therapy and Lymphatic Drainage.
Registered Massage Therapist
Kassidy graduated from Makami College in Edmonton with 3000 hours training. Since she has been in the massage field she has become so much more involved in learning how to help others. In her spare time she works on her car and focuses on her art. Kassidy is great with Deep Tissue and Relaxation Massage and is also trained in Prenatal, Myofascial Release, Sports Massage and Trigger Point Therapy. 
Registered Massage Therapist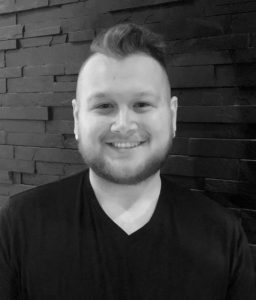 Vaughn discovered his passion for Massage Therapy after sustaining traumatic injuries to both his knees. It was through receiving Massage Therapy that he was able to make a full recovery, and gained a deep appreciation for the craft. Shortly after his recovery, he enrolled in MacEwan University's Massage Therapy program, as he wanted to help people who have also dealt with chronic pain. Vaughn specializes in
Therapeutic
and
Deep Tissue Massage
, in addition to being adept in
Myofascial, Trigger Point Release
,
Swedish Massage
, and more. When not massaging, Vaughn enjoys painting, playing drums, and spending time with his dogs.
---